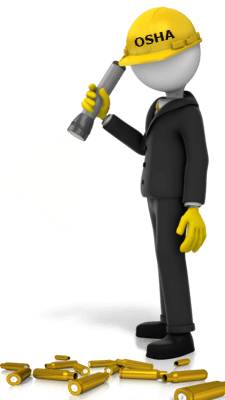 Gun ranges are, often, extremely focused on safety. For most gun owners, the hobby is serious, following strict protocol for each weapon like a mantra. It's part of the fabric of the culture surrounding the industry.
The inherent dangers of firearms go beyond the obvious, however. When Tennessee Occupational Safety and Health Administration (TOSHA) inspectors arrive, many gun ranges trip up on a far more abstract safety violation: lead contamination.
A Distressingly Common Problem
As reported in a recent news story, with 8 out of 10 TOSHA inspections of gun ranges since 2012 noting lead violations, it's clear that this is both a problem that is far larger than necessary but also one that ranges giving special attention to the issue can solve.
Firing range employees need to rely on safe, best practices in performing their duties at the range: hand and eye washing, no food or drink consumption inside the building, full protective gear whenever cleaning the range area, showering and changing clothes immediately after work.
Employers should rigidly mandate these practices. But the greatest preventative tool is for everyone to work together to prevent lead hazards from being an issue, after all, it affects everyone.
The Best Method of Lead Issue Prevention at Indoor Firing Ranges
Ventilation is the common theme tying together the lead violations found in most TOSHA inspections of gun ranges. In the worst cases, gun ranges end up flagged by the symptoms of employees — and even their families — suffering from the effects of acute lead poisoning. Recurring migraines, tremors, muscle pain, causing the employee to seek blood tests that flag them with high levels of lead in their blood.
Lead particulates suspended in the air by poor ventilation are a major danger. While customers are less likely to suffer from acute lead poisoning, they're a great barometer for ventilation issues that employees might be used to. Pay close attention to the air quality at the range.
Changing filters regularly on your existing system isn't always enough. If problems persist, it's time to modernize with a ventilation system designed for this exact problem. After proper ventilation, Best Management Practices (BMP's) is the next most important step to consider. MT2 is the Nation's leader in providing BMP's to all indoor and outdoor firing ranges and is the #1 and Largest Nationwide Professional Firing Range Lead Reclamation and Maintenance Contractor with a proven record. Services includes: complete firing range maintenance & improvements, lead remediation services, lead reclamation, OSHA & environmental consulting, operational maintenance and range closure.
Don't Wait for TOSHA
Rigid safety plans are in the DNA of any seasoned gun range owner. Apply that same careful eye to ventilation, cleaning, and safety gear policies, and TOSHA will have a much slimmer chance of finding violations. Most gun ranges are safe from short-term accidents; keep them safe from long-term issues as well. MT2 has prepared an industry report on this very topic that will help gun ranges stay compliant with their lead handling. Interested range personnel may download it for free at www.MT2.com
Recognize the Early-Warning Signs That Your Firing Range is Contaminated with Lead
While most outsiders think of shooting accidents as the main health hazard at gun ranges, lead contamination is the true (and much more banal) risk to the health of customers and staff. In fact, high doses of lead can have permanent lung and brain damage, especially in children if they are exposed frequently over time. For that reason, range owners must be careful to recognize the early warning signs of too much lead and control it in their facility.
Casings
The most obvious sign that there could be lead contamination is an abundance of lead casings left around on the ground. These may seem harmless but they may contain high quantities of lead which can get into the dust and atmosphere around the customers.
More and more gun range owners are taking these crucial steps to recognize and control the lead exposure at their facilities, they understand that people are counting on them to keep them healthy and safe, not only from bullet wounds but also from more pedestrian hazards and we applaud them!
MT2's zero-tolerance for regulatory violations gives range owners the peace of mind that their project will be successfully completed on a guaranteed schedule. No one can complete an Environmental or firing range lead reclamation project quicker and safer than MT2. Contact us today for a free firing range analysis, complete our online range questionnaire.