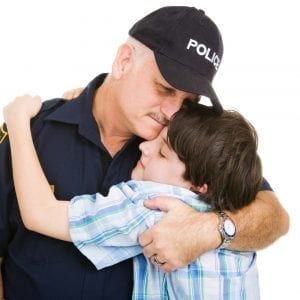 In honor of Independence Day 2017, MT2, the nation's largest firing range lead reclamation and maintenance contractor, has set aside funds to support a program that promotes INTERdependence.
Police and Law Enforcement protect and serve their communities, but unfortunately many lose their lives in the line of duty. Many times, they leave behind family including young children and this loss is devastating, but it also impacts them for a lifetime.
James M. Barthel, President of Metals Treatment Technologies (MT2), responded by stating:
"We have a corporate initiative of annually supporting our brothers and sisters in blue. Our core vision and mission is to provide premier specialty environmental products and services with a higher purpose and MT2 personnel are passionate about cleaning and restoring our environment, protecting people from the hazards of lead, and in serving and protecting those who serve and protect us, whether in the military or in law enforcement." Barthel continued, "We are pleased to announce our support in helping law enforcement officers nationwide make a difference with their goal to develop partnerships between police and youth with programs to financially support children of law enforcement officers who have been lost or permanently disabled in the line of duty."
MT2 encourages others interested in supporting Law Enforcement and the communities they serve, to join them in supporting important programs and charitable organizations in their local communities as well.
About MT2:
MT2 is the #1 and Largest Nationwide Professional Firing Range Lead Reclamation and Maintenance Contractor for both indoor & outdoor ranges; having provided professional, high-integrity solutions to over 1,200 public and private indoor and outdoor firing ranges for military, law enforcement and municipalities nationwide in all 50 States since 2000.
MT2's extensive list of clients includes over 400 law enforcement agencies such as NYPD, State Departments of Corrections, and the US Military. Since 2006, MT2 has been implementing a BMP Program for lead management and maintenance that successfully reduces lead hazards at the NYPD training range where over 40,000 officers and recruits train annually.